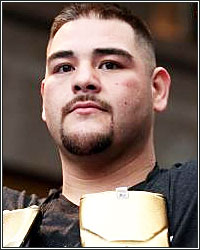 Andy Ruiz Jr. and Chris Arreola have a lot in common. They are both Mexican-American heavyweights who honed their boxing senses under the guidance of their fight fanatic fathers. They both took frequent trips as young boys to Mexico with their fathers to experience "real" fighting. They are also not body-beautiful types, of course. And, professionally, they are probably the two most accomplished heavyweights of Mexican descent in the history of boxing– although, admittedly, there's not a huge talent pool of Mexican heavyweights from which to choose.
But what makes their upcoming FOX Sports/PBC PPV bout so interesting is what may be boiling beneath the surface of their good-hearted camaraderie and respect.
Chris Arreola, for all his "good guy" charm and "it's all good" attitude has to be sporting a streak of resentment for Ruiz, who ended up accomplishing everything many felt Arreola was supposed to accomplish.
"At one point he wanted to be like me. Now I want to be like him," admitted Arreola during a recent press conference. "He became the first Mexican to win the heavyweight title. He did something I could never do. He deserves it, he did it…Now it's my turn to do my best, to change history and prove that I am a great, elite Mexican heavyweight."
For a good, long time THE Mexican heavyweight was Arreola and he was the one supposed to become that historic first heavyweight champ of Mexican descent. But, for as solid and as earnest the East L.A. native was, he could never quite get to the very top.
A tough waving of the white flag in his first title try against WBC champ Vitali Klitschko in 2009 was followed five years later by a controversial unanimous decision loss to Bermane Stiverne in a bid for the vacant WBC belt. Then, two years after that, he was forced to wave the white flag again in a loss to reigning WBC champ Deontay Wilder.
"The Nightmare" had a nice run as a 17-year pro with some very solid wins and a reputation for being a balls-out tough guy. But he never got what Ruiz got. He never became THE man. He never got to be the right guy in the right place at the right time to make history.
The 40-year-old battler would probably never cop to it, but there had to be plenty of resentment when it was Ruiz and not him making the rounds on late night talk shows, getting mainstream love, and stamping his place in history. Every now and then during the lead-in hype to this upcoming bout, some of that resentment slips out.
"He's motivated to knock my block off but I'm motivated too," Arreola told media. "I want to win. He may have been the first Mexican heavyweight champion but the best Mexican is right here."
While both Arreola and Ruiz are motivated to win, the motivations pushing them to victory may be very different.
Andy Ruiz needs to win this Saturday to get back into the world title picture and rebuild his name after the embarrassing fall from grace that followed his Rocky-like upset of three-belt champ Anthony Joshua. A win means career redemption, a spot among the relevant elite and all the earning potential that represents.
For Arreola, while money and a fourth title shot are surely high on the agenda, there's also the realization that he's not long for this boxing world. A win over Ruiz is about legacy– something which he's come right out and admitted in interviews. It's about proving that he was always as good as he was hyped to be and always as good as he knew he could be.
Ruiz and Arreola are going to fight their asses off, regardless. That's just who they are. But this undercurrent dynamic of redemption and validation will make the battle memorable.