[VIDEO] JESSIE MAGDALENO WARNS EMMANUEL NAVARETTE HE'LL "TAKE HIM OUT"; EXPLAINS WHY "REAL FIGHT IS WITH ME"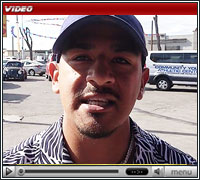 [embedded content]
FightHype.com recently caught up with former world champion Jessie Magdaleno, who teamed up with heavyweight champion Tyson Fury and former champion Andy Ruiz Jr. to give back to the people with Project HOPE, donating groceries to families in need. You don't want to miss what went down. Check it out!
[ Follow Sean Zittel on Twitter @Sean_Zittel ]
As an Editor and an Sports Geek, it's my pleasure to share my knowledge about Sports and their various aspects that can impact our lives.
0
0