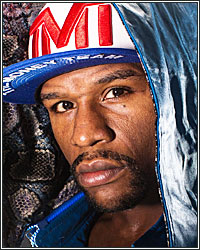 Greetings fight fans and welcome to another Thursday edition of Magno's Bulging Mail Sack, the one and only boxing mail bag column that sends that kindly old lady with the ponytail at Ring Magazine into convulsive fits of bed-wetting. This week, we have questions/comments regarding the Floyd Mayweather-Logan Paul event, Andy Ruiz vs. Chris Arreola, Ryan Garcia's Future, and Manny Pacquiao's comeback opponent.
Floyd Mayweather-Logan Paul Hysteria
Hi Paul.
Mayweather vs. Logan Paul. I just don't know what to make of it. Is the boxing world this upside down? Ugh. Make some sense of it for me, Sr. Magno.
– Simon
Hey Simon.
Well, there's just no denying it– Mayweather-Logan Paul is going to kill boxing. We are done as a sport after this…NOT.
It practically makes me giddy when I hear all these "purists" wetting their pants over a fight like this. Mayweather-Paul (or any other exhibition fight or boxing sideshow event for that matter) is just another topping in the buffet dessert area. Put it on your soft serve ice cream, or not. None of this celebrity stuff takes a damn thing away from the sport and, in the long run, it can only add to the mainstream buzz the sport gets as a whole. At worst, these are just fluff entertainment events that come and go with little impact.
What boxing does need to be worried about, though, is the fact that these sideshow events do better business than what passes for elite matchmaking these days. Boxing needs to start putting together the matches the fans want and actually try to promote itself to the mainstream sports fan. Mayweather-Paul and Jake Paul-Ben Askren outselling everything else by a 2-to-1 margin should be a wake-up call for the bossmen on the "real" end of the sport.
As for making sense of this? Well, there's money to be had in these fights, so someone is coming along to harvest the fields. There's no mystery here.
KingRy's Future, Pacquiao's Tangled Path to a Comeback
Hi Paul
Hope this email finds you well.
So Ryan Garcia… I remember about 10 years ago that they used to talk about this prospect with looks and charisma that had great potential, Victor Ortiz. We found out how he was mentally weak through the Maidana fight. Is Ryan also on this path? I seem to lean into this idea, plus he is not the most polished fighter. We have seen his weaknesses on his fights against Carlos Morales, Luke Campbell and Rollies (sparring).
It also seems nowadays that Pacquiao can't make up his mind and pick an opponent. One week we heard about him finalizing a deal with Crawford, one week later vs. Spence and today we heard about Mikey Garcia. His mind seems to be somewhere else and he might just be looking for the best cashout fight (can't blame him for this)
Best Regards.
— Miguel
Hey Miguel.
There's been a lot of talk about Ryan Garcia this week and his decision to take some time away from the sport to get his head together. Is he just ducking Javier Fortuna? Is this a business move of some sort? Does he legitimately have some personal issues? All of this becomes a big deal, only if you see him as more than what he really is right now. For me, he's a 22-year-old work in progress who is responding as a 22-year-old with a sudden shit-ton expected of him would reasonably respond. Whether you think he's on the level or straight-up faking, the reality is that he simply is NOT ready for the names he's been calling out. His level of development is reasonable given his age and it's not fair to judge him against this current young crop of lightweights (Gervonta Davis, Teofimo Lopez, Devin Haney), who developed into complete packages at a younger age and are outliers from what can be normally expected of young, early-20's fighters. Garcia's got star charisma, star looks, a fan-friendly style, and tons of raw talent. But he's not anywhere near being a finished product yet. So, for me, it's too soon to say whether he's a Victor Ortiz bust or not. Regardless of the reason for him pulling back, I think it was a smart move. At his age, there's no rush.
As for Manny Pacquiao, the one thing I learned after covering him for more than a decade is that Team Pacquiao has many, many moving parts eager to be his voice, but very few who actually have real access to him or his business. You're always going to see so-and-so talking to media about his plans and these guys, despite having a fancy title inside the Team Pacquiao organization, generally don't know much more about Manny's plans than you or I do. Even a media quote attributed directly to Manny isn't guaranteed to have come directly from Manny. The truth is that, with him, we really don't know what's real and what's not until there's some actual paperwork drawn up. So, on the surface, it may seem like there's a new opponent out there every week and that Manny is being indecisive, but the truth is probably that Manny hasn't said a damn thing about anyone and is just getting in shape to be ready for whoever may be pulled his way.
Ruiz vs. Arreola
Hey Magno.
Just gonna get right to the point here. Who you got on Saturday, Ruiz or Arreola? And where does the winner go from there?
– Carlos
Hey Carlos.
I'll answer right to the point. You have to take Ruiz as the fresher, better skilled fighter. My guess is that he moves on to a Deontay Wilder fight a little bit further down the line. Maybe he gets a shot at Fury if Fury beats Anthony Joshua (when/if they get their two fights out of the way).
Got a question (or hate mail) for Magno's Bulging Mail Sack? The best of the best gets included in the weekly mailbag segment right here at FightHype. Send your stuff here: paulmagno@theboxingtribune.com.